Books and More
Check out these these eBook selections from TumbleBooks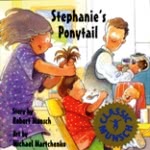 None of the kids in her class wear a ponytail, so Stephanie decides she must have one. The loud, unanimous comment from her classmates is: "Ugly, ugly, very ugly." Steadfast, when all the girls have copied her ponytail, she resolves to try a new style. With true Munsch flair, each of Stephanie's ponytails is more outrageous than the last, while the cast of copycats grows and grows.
This bestselling modern classic features a princess who rescues a very snooty—and ungrateful—prince.
Features narration by author, Robert Munsch!
When Andrew's parents ask him if he needs to go pee, Andrew says "No, no, no, no." And then, minutes later...
"I have to go pee!" Andrew yells.
Driving in the car, stuffed in his snowsuit, and tucked into bed...Andrew has to pee!
Kids will love this hilarious book. When you have to go, you just can't wait!
---
Top-selling books for Children
From Baker & Taylor
1. Harold & Hog Pretend for Real! by Dan Santat
2. Pete the Cat and the Itsy Bitsy Spider, by James Dean
3. Pinkalicious Fishtastic! by Victoria Kann
4. Mr. Lemoncello's All-Star Breatout Game, by Chris Grabenstein
5. The Hawaiian Heist, by Geronimo Stilton
6. Theodore Boone: The Accomplice, by John Grisham
7. Diary of an Awesome Friendly Kid, by Jeff Kinney
8. Shouting at the Rain, by Lynda Mullaly Hunt
9. The First, by Katherine Applegate
10. I Have an idea! by Herve Tullet
---
Free Interactive eBook of the Month

READ NOW

Join in the fun as a young boy awakens to find that eveything around him is "odd". See if you find all the odd things that surround him throughout the day - both at home and at school. Will his "odd day" end when he goes to bed that night?


This book is specifically designed to be both fun to read and a launch pad for discussion and learning. eBooks with Auto-flip, Auto-Read, and selectable English and Spanish text,
---