Summer Reading Program
The Arizona state Collaborative Summer Reading Program is coming up. Our Member libraries participate in this event from late May until late July. Each member library provides activities and events. Navajo County Library District helps it's member libraries with Summer Reading Program in many ways. NCLD helped fund an Arizona Performer - Magician John Fitzsimmons - to attend several of our member libraries.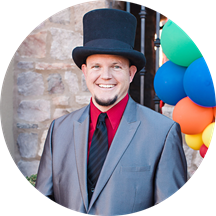 John Fitzsimmons has over 25 years of experience performing magic shows at hundreds of events throughout the nation. He has also performed at countless family events, schools, local mall kids' club programs and many Radio Disney Events. Currently he is the official magician of the Children's Museum of Phoenix where he performs over 50 shows each year.
You can see one of his performances during these EPIC magic shows.
3:00 PM 60 Minute EPIC Magic Show 7/6/2022 Holbrook

6:00 PM 60 Minute EPIC Magic Show 7/6/2022 Winslow

11:00 AM 60 Minute EPIC Magic Show 7/7/2022 Snowflake

1:30 PM 60 Minute EPIC Magic Show 7/7/2022 Show Low

4:00 PM 60 Minute EPIC Magic Show 7/7/2022 Pinetop
Additional Summer Reading Program Events Include:
Tuesday, May 31st

Winslow Summer Reading Program registration at the City Pool (Time: 11:00 am - 1:00 pm)
Snowflake Summer Reading Program registration at the Snowflake-Taylor Public Library (Time: 2:00 pm)

Wednesday, June 1st

Pinetop-Lakeside Summer Reading Program Kickoff event - Pinetop-Lakeside Public Library (Time: TBD)

Friday, June 3rd

​​​​​​​Show Low Summer Reading Program Kickoff event (Time and Location: TBD)

Tuesdays (except July 5th)(June 7th - July 19th)

​​​​​​​Clays Springs STEM Classes - Clay Springs Public Library (Time: 11:00 am)
---